Granny Flats Are A Hot Commodity In The Tampa Bay Area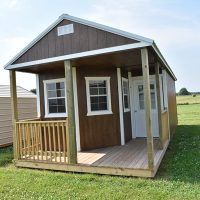 Accessory dwelling units (ADUs) skyrocketed in popularity during the pandemic.  When most places are closed, and seniors were hesitant to visit supermarkets outside of senior hours, people wished to get out of the house without going to a public place.  For people who could afford them, ADUs provided the perfect solution.  They could be a remote work place, home gym, home movie theater, home recording studio, or anyplace you wished to go that was several orders of magnitude noisier or quieter than home.  For some families, ADUs, in their capacity as "granny flats," represent a happy medium between seniors living alone while aging in place or moving to an assisted living facility.  A Tampa estate planning lawyer can help you with the financial plans and emotionally challenging conversations with family required to make granny flat living a part of your future.
Aging in Place While Keeping Your Independence
For some families, maintaining a household where elderly grandparents live in the same house with the younger generations is the obvious choice, but some seniors would find it stressful to live under the same roof with their children and grandchildren day in and day out, where you are constantly confronted with their noise and with the various family members' differences of opinion over finances and other emotionally charged matters.  Meanwhile, having your family nearby could be the best choice for your physical, emotional, and financial health.
An ADU is independent enough from the main house that you have your own bedroom, kitchen, and bathroom; it is much like a guest house or being next door neighbors with your family.  Some ADUs adjoin the main house, but even these have a separate entrance.  If you want to make yourself scarce during the unpleasant scene in which your daughter drags your teenaged grandchildren out of bed to get ready to catch the bus to school, an ADU makes it easy to do this.
Accessory Dwelling Units Are Not Cheap Unless You Already Own a House With a Lot of Land
If ADUs are so great, why don't more people have them?  The short answer is that most of the granny flats currently standing in the Tampa Bay area are already occupied.  The COVID-19 pandemic ushered in a granny flat building boom.  Anyone with enough money and enough land built an ADU so they could not be isolated but be far enough from others to minimize their COVID exposure risk.  Of course, they represent a substantial financial investment.  Building an ADU on a property you already own costs about $200,000.  Buying a new property that includes a single-family home and an ADU costs about $500,000, and those properties that appear on the market tend to disappear quickly.
Contact an Attorney for Help Today
An estate planning lawyer can help you find the best living situation for you and make plans for how to afford it.  Contact David Toback in Tampa, Florida to set up a consultation.
Source:
tampabay.com/life-culture/2021/11/12/granny-flats-are-rising-in-popularity-amid-the-pandemic-study-says/