What Are Your Options For Senior Housing?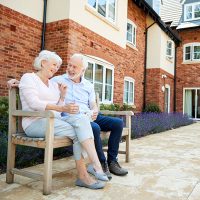 You are so young that you have only recently started getting mail from the AARP.  You barely even qualify as a senior, so you are years away from needing to make a decision about senior housing.  It helps to know what the options are and how affordable they are.  You can stay in your house for years to come and focus on paying off your home mortgage, which will reduce your housing costs, but eventually, your housing costs will increase no matter which senior housing option you choose.  A Tampa estate planning attorney can help you plan for your housing needs, as well as other expenses and splurges you will encounter during retirement.
Aging in Place and Senior Villages
The least expensive senior housing options are the ones where you buy a house and stay in it for many years.  Aging in place is where you simply continue living in the house where you raised your children.  In the future, as your mobility changes, you might need to modify your house, such as by adding handrails to the bathrooms, a bench to the shower, and a chair lift to the staircase, but these modifications are relatively inexpensive.  You might also eventually need to engage the services of home health aides, too.  The main advantage of aging in place is that it allows you to stay in your forever home, close to the neighbors and friends that you have known for years.
Senior villages are another affordable option.  The houses tend to be smaller, just big enough for a couple, and they tend to already have the modifications that seniors make for aging in place.  Opportunities to socialize with your new neighbors will be plentiful, but there are no organized in-home care services in the community.  You are responsible for hiring your own home health aides if you need them.
Living With Varying Degrees of Assistance
Independent living, assisted living, and nursing homes are the most appropriate options for seniors who need varying levels of care with tasks of daily living, such as shopping, housework, and cooking.  Independent living and assisted living campuses tend to have organized recreational activities and transportation to shopping areas; assisted living facilities also have medical staff on-site.  The average monthly rent for a couple to live in an assisted living or independent living unit in Florida is just under $2,000.  The best way to pay for residence in an independent living or assisted living facility is with long-term care insurance.  Nursing homes are most appropriate for people who need help with basic tasks such as eating, dressing, toileting, or bathing.  Medicare pays for nursing homes, as does long-term care insurance.
Contact David Toback With Questions About Your Senior Housing Options
A Central Florida estate planning lawyer can help you decide where you want to reside in your old age and how best to pay for the option that you choose.  Contact David Toback in Tampa, Florida to set up a consultation.
Source:
yahoo.com/entertainment/5-main-options-senior-housing-223100062.html