3 Types Of Personal Property And How They Affect Your Estate Plan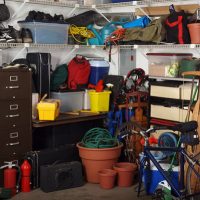 You may have heard the advice that decluttering is an effective form of estate planning, but you might have written it off as cheap propaganda by social media influencers who are not young and agile enough for TikTok dances, so they base their influencer persona on being tough on clutter.  You have probably heard it all before about how leaving your house full of your stuff when you die, with no instructions for which stuff you want your descendants to keep, creates weeks of grueling and thankless work for your family, and maybe you have even experienced it when you had to clean out your own parents' or grandparents' house after they died.  It's easy to know that you should do a big decluttering project, but it's hard to get started.  One place to start is by thinking about your worst clutter, and then to dispose of it or convey it to its next recipient.  "Worst" clutter, in this case, means that which is likely to be the most burdensome or upsetting to your family if they have to make decisions about it.  Your Hillsborough County estate planning lawyer will thank you, and so will your family.
Old Junk: Good for a Laugh, or the Straw That Broke the Camel's Back
Plenty of people who don't fit the clinical definition of hoarding hold onto things that they don't need but convince themselves that they will find a use for someday.  How your family reacts to finding this stuff depends on your family dynamic.  It appears that the family of the man who left a bag full of non-functional pens, labeled as such, in his house when he died had a good laugh, because his grandchild posted about it on Reddit.
If your family doesn't get along, then the more items destined for the dumpster that remain in the house when your estate goes to probate, the greater the opportunities for conflict.  An argument about a sibling arriving later than promised to work on the decluttering can lead to decades of resentment bubbling over.  The conflicts over helping parents in their final years can easily turn into inheritance disputes in probate.  Think of decluttering your house as your last chance to prevent sibling rivalry.
Memorabilia: Get It Appraised While You Are Alive
Yes, your descendants can appraise your memorabilia decision when you are gone, but they can't change the decisions in your will about the destination of said memorabilia.  A better idea is to appraise your memorabilia collection while you are alive, and then let your children choose the pieces they want.  You can give those pieces to your children as gifts or bequeath them to them in your will.
Personal Papers: When You Take Secrets to the Grave, but They Manage to Stay Behind
Sometimes family secrets come out when families go through a deceased relative's personal papers.  (Consider that there are estate research firms dedicated entirely to helping people file claims from the estates of long-lost relatives.  Think about how your children would feel if a long-lost half-sibling they never knew existed showed up during probate.)  If you want your family to find out a secret when you die, then leave your papers as they are.  If you never want them to find out, destroy the papers now.  The best solution, though, may be to come clean about family secrets so that you and your family can make peace with them while you are alive.
Contact an Attorney Today for Help
A Tampa probate lawyer can help you make practical decisions about sensitive situations that may arise during the probate of your estate.  Contact David Toback for help today.
Source:
buzzfeed.com/marycolussi/strange-things-left-behind-by-deceased-people