Estate Planning In A World Where 50 Percent Of Seniors Will Develop Dementia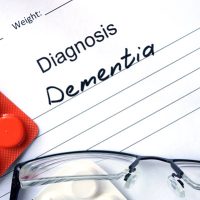 The fun parts of estate planning are the parts alluded to in the photos on the websites of estate planning law firms.  You see pictures of seniors walking on the beach with their grandchildren and dancing on the dancefloor as they celebrate their 50th wedding anniversary.  These pictures would make you think that estate planning means planning for a big party that starts when you retire and ends when, well, let's not talk about that until after a few sessions with an estate planning lawyer.  Even some parts of estate planning that involve confronting your mortality are fun.  Daydreaming about the comfort that your family members will derive from the property they inherit from you can put you in a good mood; even decluttering your house to make the eventual task of sorting out your belongings easier on your next of kin can give you a sense of accomplishment.  Meanwhile, no one likes to think about what will happen if they get dementia, even though, according to a recent study, there is a 50 percent chance that you will.  A Tampa estate planning attorney can help you with even the scariest and most painful aspects of estate planning.
More Dementia or Better Testing?
This month, the Journal of the American Medical Association published a report about an increase in dementia diagnoses among seniors.  According to researchers at the University of Michigan, 50 percent of the elderly adults who died in 2017 had been diagnosed with dementia in their old age.  Conversely, only 36 percent of the elderly adults who died in 2004 had received a dementia diagnosis during their lifetimes.  The authors caution readers not to be alarmed that dementia cases are skyrocketing. The increase in diagnoses is due, at least in part, to the fact that doctors now screen all seniors for dementia instead of only those who show clear signs of memory loss.
How to Hope for the Best and Prepare for the Worst
Even though you should live each day building memory that you assume you will always be able to cherish, you should make decisions now that will give you the highest quality care in most financial security in the event that you later develop dementia.  These are some steps you should take now:
Buy a long-term care insurance policy
Choose someone you trust to make decisions about your medical care if you become incapacitated
Choose someone you trust to make decisions about your medical care in the event that you become too ill to do so
Formalize your wishes in writing
An estate planning lawyer can help you think through these decisions and act on them.
Contact David Toback About Planning for Your Long Term Care
A Central Florida estate planning lawyer can help you make decisions now to ensure that you get the best care in the event that you develop a serious health condition like dementia.  Contact David Toback in Tampa, Florida to set up a consultation.
Sources
neurosciencenews.com/aging-dementia-death-20290/