How To Make Your Family Respect Your Memorabilia Collection, Even If They Don't Love It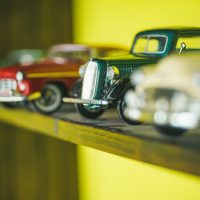 Your collection of Dungeons and Dragons miniatures has been a source of enjoyment since you were a child.  To people in the know, it is an impressive collection by objective measures.  Some of your friends share your enthusiasm for your collection, but your family does not.  Welcome to the world of memorabilia collecting, where the people you love the most view the stuff you love the most as so much old junk.  The bad news is that the probate court categorizes your memorabilia, no matter how interesting or valuable it might be, as "personal property," meaning that it is your family's problem to decide what to do with it after you die.  The good news is that, even though a gleaming sword and a shining helmet will not persuade your family or the probate court that a figurine is valuable, some cold, hard data on a spreadsheet will.  A Tampa estate planning attorney may not be able to help you find enjoyment in estate planning but can certainly find the estate planning value in your memorabilia hobby.
It Looks Like an Old Geezer Hobby, but It Is Actually a Radical Act of Estate Planning
Chances are, you have spoken volumes to your family about your memorabilia collection, but they don't remember any of it.  When it comes time to talk to an appraiser about selling your collection, or at least its most valuable items, they will wish that they had paid closer attention.  Even if you indicate in your will that you do not want your heirs to sell your collection, it will still be helpful for them if they know more about each piece and its potential market value.
For your family, determining the origin, characteristics, and value of each piece in your memorabilia collection after you die will be not only a time-consuming hassle, but also a reminder of their grief.  For you, researching your beloved memorabilia is one of the most fun activities you can imagine.  When you record the information in an organized manner, so that your family can find the details they need, it is a labor of love.
Compiling a spreadsheet of data on your memorabilia collection will not even feel like work.  What could be more fun than reading through listings on auction websites and seeing how much people recently paid for memorabilia items similar to yours.  When your family reads the spreadsheet and sees how your useless pieces of junk have increased in value from one column to the next, it might even give them a new found appreciation for your hobby.  If you show them the spreadsheet now, you might even get to witness their change of heart while you are alive.
Contact David Toback With Questions About the Most Enjoyable Parts of Estate Planning
A Central Florida estate planning lawyer can help you make a plan for your property so that your surviving relatives do not have to deal with this arduous task after you die.  Contact David Toback in Tampa, Florida to set up a consultation.
Source:
kiplinger.com/retirement/estate-planning-for-memorabilia-collectors