Is Your Will Out of Date?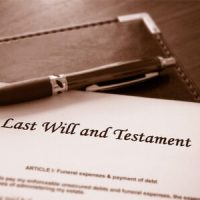 As every retiree knows, some things get better with age.  Your dad jokes are even funnier now that they are grandpa jokes, and now that collecting vinyl records is back in style, there is no telling which of your other old hobbies will soon get the appreciation that they deserve.  Of course, two of the effects of the COVID-19 pandemic are that people are increasingly aware of their own mortality and that, as a result of staying home being much safer than going out, people are finally getting around to doing projects at home that they have been putting off.  Now that you have decluttered your house, planted a new garden, and learned to bake bread at home, perhaps it is time to update your will.  If you need guidance about the new version of your will, contact a Central Florida estate planning lawyer.
Signs That It Is Time to Update Your Will
If major changes have taken place in your life or in the lives of the beneficiaries of your will since you last wrote the will, it is time for an update.  These are some examples of reasons to update your will:
You wrote the will before you moved to Florida. Different states have different laws about inheritance and probate.
You have gotten married or divorced since you wrote the old will.
Some of the assets listed in your will are no longer part of your estate. In other words, you have sold these assets, placed them in a trust, or titled them in someone else's name.
One of the beneficiaries of your will has changed his or her name. For example, perhaps you have left some assets to your sister, and she was married when you wrote your will.  She has since divorced and changed her name back to her maiden name.  She will have a much more difficult time during probate if the name in the will does not match her current name.
More beneficiaries of your will have been born. Perhaps you wrote your will before you had grandchildren, but now that you have them, you want to designate specific assets to them separately from their parents.
One or more of the beneficiaries of your old will have died.
You want to disinherit someone listed as a beneficiary in your old will. The best way to do this is to state clearly in the new will that you do not want this person to inherit anything.  If you simply fail to mention them in the new will, they might be able to convince the probate court to give them part of your estate.
Even if no major changes have happened since you wrote your will, it is still a good idea to review it with an estate planning lawyer if more than five years have passed since you wrote it.
Contact an Attorney Today for Help
An experienced Tampa estate planning lawyer can help you think through what will happen if a probate court follows the instructions in your will in its current form.  Contact David Toback for help with your case.
https://www.davidtobacklaw.com/if-you-suspect-that-a-will-is-forged-dont-wait-to-voice-your-suspicions/