Late In Life Divorce Is Simpler Than Dealing With An Estranged Spouse During Probate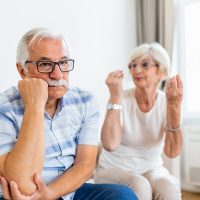 In a marriage that lasts decades, no one is happy every minute, but people's reasons vary regarding whether to divorce or to stay together.  Some value family unity and do not want to complicate their relationships with their children, grandchildren, and in-laws.  Others decide that life is too short to spend their golden years with someone they no longer love, respect, or trust.  The older you are, the more your estate plan plays a role in your decision to divorce or to stay married.  Your spouse is still entitled to inherit in accordance with your will, or even to claim an elective share of your estate, if you have not lived together in years, and even if one of you has already filed for divorce.  (In a famous example, model Paulina Porizkova inherited millions from her estranged husband, musician Ric Ocasek when he died unexpectedly while they were in the process of a divorce.)  If you and your spouse are separated, it is worthwhile to review your estate plan with a Tampa estate planning lawyer.
Real Estate Empress Dies Single After Epic Divorce, Leaves Estate to Her Children
Floridians will recognize the name of Lucille "Lovey" Handelsman from decades' worth of news headlines.  She and her husband Burt built a veritable real estate empire, including some famously luxurious retail buildings on Worth Avenue in Palm Beach.  Burt and Lovey amassed an enormous net worth during their 67 years of marriage, but by 2016, Lovey had had enough of Burt's ill treatment of her and his affections toward their family friend and business associate Jane Rankin, and the couple separated.  Theirs was an acrimonious divorce, in which Lovey alleged that Burt had been carrying on an affair with Rankin for years, while Burt alleged that the couple's children were turning their mother against him.  In other words, one of Lovey's motivations for divorcing Burt was that she wanted the children to inherit the money, not Burt, who would give Rankin access to the money, either through gifts or by marrying her if Lovey predeceased Burt.  The couple finalized their divorce in 2018.
Lovey died in November 2021 at the age of 93, in her apartment above the Worth Avenue commercial properties she owned.  Whereas, when she and Burt married, they owned no real estate, at the time of her death, she was the largest real estate owner in Florida.  While the details of her will have not been made public, she likely left her estate to her two daughters and her son.
Contact an Attorney Today for Help
Many divorced people and those who have filed for divorce procrastinate revising their estate plans, but this is a costly mistake, even if you live for many years after your divorce becomes final.  An estate planning lawyer can help you create an estate plan that suits the new you.  Contact David Toback in Tampa, Florida to set up a consultation.
Source:
palmbeachpost.com/restricted/?return=https%3A%2F%2Fwww.palmbeachpost.com%2Fstory%2Fnews%2Flocal%2F2021%2F11%2F23%2Flucille-lovey-handelsman-dies-owned-much-worth-avenue-palm-beach%2F8722237002%2F