Protecting Your Digital Assets When Planning Your Estate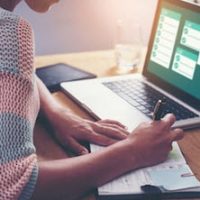 More and more we handle our personal business online. Recent studies show that some 40 percent of bank customers manage their accounts from a computer and another 26 percent use their mobile devices. While some of these accounts may be accessible to an estate administrator through traditional means, others may only be accessible through an online platform. Not being able to access these accounts, can mean a huge loss for family members that are left behind.
This means that it is not only in your best interest, but in the interest of your loved ones, to take the steps to protect your account information and digital access by making them accessible to your designated trustee or personal representative. Many people fail to make arrangements for these digital assets when creating their estate plans. An experienced estate planning attorney will be your best resource for planning for these assets when you are ready to make your plan.
What Are Digital Assets? 
Digital assets is a term that is often used loosely when it comes to estate planning because this aspect of estate planning is still evolving. Not everything addressed here meets the strict definition of a digital asset but is still important to take into consideration. Here is a list of digital assets that you may want to consider speaking to your estate planning attorney about:
Bank accounts that you manage online
Email accounts
Credit card accounts and other accounts that you manage online
PayPal and other online financial accounts
Digital photos or other online storage
Social media accounts
Cryptocurrency
Apps that put your pennies into online savings accounts each time you make a purchase
Even if these accounts or apps don't actually have assets, they can represent a risk if not managed properly after your death. That means that someone needs to be able to shut them down in order to protect your assets when you are no longer able to yourself.
Steps to Manage Your Digital Assets When Planning Your Estate 
There is no federal law regarding how digital assets are handled after the death of the account holder. Florida law does have rules about fiduciary access to digital access, but the statute relies on the directions of the account holder. However, there are a few things that you can do to help when it comes to your digital assets and estate planning:
Take Inventory – Make a list of your online accounts and how you access them. This should include the URL to log in, the name of the app, and your username and password. Keep this list in a secure location and be sure your trustee knows where it can be located if needed.
Make It Known What You Want Done with Your Accounts – This may be different for each account but be sure you know how you want your accounts to be wrapped up in the event of your passing.
Use Tools Provided by The Online Site – Some social media accounts and online platforms have tools that allow you to designate someone to manage your account after your death or instruct the site to deactivate your account. Check your accounts for these options and use them if possible.
Provide Instructions for the Accounts in Your Will, Trust, and Durable Power of Attorney – You may be able to make a general statement regarding these assets or be specific with each account. Whatever you decide, be sure you treat these assets just like personal property.
Discuss Your Digital Assets with Your Estate Planning Attorney 
When you sit down to create your estate plan, you likely aren't thinking about your digital assets. However, these assets should be included in the estate planning process. Contact Tampa estate planning attorney David Toback today to schedule a consultation and ensure that your digital assets are being handled the way you want them to be.
Resource:
leg.state.fl.us/statutes/index.cfm?App_mode=Display_Statute&URL=0700-0799/0740/0740.html
https://www.davidtobacklaw.com/what-is-an-executor-and-how-do-i-choose-one/