The Caregiver Burnout-Proof Estate Plan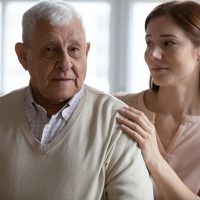 Estate planning lawyers advise clients to hope for the best but prepare for the worst.  Therefore, your estate plan has a built-in best-case scenario, in which you enjoy many years of good health living within the budget you can afford with your retirement income, as well as a worst-case scenario, in which your health takes a turn for the worse much sooner than you expected.  Dementia, which includes impairment of short-term memory and of the ability to make decisions thoughtfully, is a fairly common medical condition in elderly people, and it is a great source of emotional stress both for the patients themselves and for their close family members.  As unpleasant as it is to think about, planning for retirement means planning for the possibility that you or your spouse will develop Alzheimer's disease or dementia.  A Tampa estate planning attorney can help you plan for your care in the event that you later develop dementia or other chronic health problems.
Being a Primary Caregiver for a Family Member With Dementia Is the World's Hardest Job
Being a caregiver for a medically vulnerable person is a demanding job, no matter the circumstances.  Family members who act as full-time caregivers to relatives with dementia have an especially difficult time.  According to the Alzheimer's Association, more than two thirds of seniors with Alzheimer's disease or other forms of dementia live at home and rely on family members to help them with the tasks of daily life.  This is exhausting and lonely work, whether the caregiving relative is retired or still in the workforce.  The Alzheimer's Association's report that family caregivers have an especially high risk of stress-related illnesses such as clinical depression.
Memory Care Facilities Are Not the Only Option
Seniors who have long-term care insurance or ample savings can receive care in memory care facilities, which are assisted living facilities designed for seniors whose physical health is generally good but who are symptomatic for dementia.  The physical spaces and daily routines in these facilities are designed to prevent residents from wandering away or becoming agitated or confused.
If you choose aging in place, then make an effort, before and after you retire, to build a strong network of family and friends with whom you interact frequently.  Social isolation is terrible for seniors' mental health.  If a family member already has dementia and it is obvious that the lion's share of caregiving responsibilities fall to you, seek out counseling specific to family caregivers of seniors with dementia.  You can learn strategies for reducing stress for you and for the relative for whom you are providing care.
Contact David Toback With Questions About the Most Difficult Parts of Estate Planning
A Central Florida estate planning lawyer can help you make an estate plan that accounts for the arduous task of being a family caregiver, whether you choose aging in place or assisted living facilities, including memory care facilities.  Contact David Toback in Tampa, Florida to set up a consultation.
Source:
pbs.org/newshour/show/rethinking-how-we-train-caregivers-for-people-with-dementia