The Pros and Cons of Putting Your Property in a Trust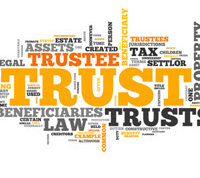 It's not an uncommon issue for parents to worry that their adult children will throw their inheritance away on fast living, drugs, or alcohol, have it taken by creditors, or have a spouse take their inheritance in a divorce settlement. However, holding their inheritance property in a trust can have a lot of benefits. It can protect it from creditors and spouses and protect it from some types of taxes, just to name a few. Unfortunately, holding property in a trust can have its disadvantages too. That's why you need to seek the advice of an experienced estate planning attorney before you decide what is best for your situation.
The Pros 
As mentioned above, putting property to be inherited in a trust can have its benefits. Those benefits may include the following:
Lots of Protection – Putting property in a trust can protect it from being taken by creditors, in a divorce proceeding, or bankruptcy.
Avoid Probate and Offer a Quick Resolution – Assets that are held in your name, but does not automatically transfer upon your death may be subject to probate. However, property that is held in a trust will avoid probate because they belong to the trust, not you. Probate can last for years and cost thousands of dollars, but a trust can ensure your beneficiaries get their inheritance much faster.
Avoid Guardianship – If you become incapable of handling your personal affairs, the court will appoint a guardian if you haven't filed the appropriate documents already. If you don't want the court to have the power to make that decision, certain types of trusts will allow you to make the decision yourself.
More Privacy – Unlike probate, you aren't required to file a trust in court. This means your affairs won't be available to the public.
The Cons
As with any good thing, there are typically disadvantages as well. Trusts are no exception. The potential disadvantages of a trust may include the following:
They Are Complex – Because a trust is complex, you will need the help of an attorney to ensure that yours is set up properly to handle things the way you want them to be.
They Are Expensive – Because you need the assistance of an attorney, a trust can be more expensive. However, this expense can save you and your family a lot of headache and time in the future.
Requires More Detail and Attention – Every detail in your trust should be thought out and the language used in your trust must be done very carefully to ensure that it will do what you want it to do when the time comes.
Does Not Eliminate the Need for a Will – There are likely going to be some assets that you don't need, or don't want, to include in your trust. This means that you will need to have a will to ensure the distribution of these assets.
Contact an Experienced Estate Planning Attorney Today
Ultimate, the decision whether you need a trust or not will be up to you and the advice of your attorney. Tampa estate planning attorney David Toback has years of experience helping to ensure that the final wishes of his clients are handled the way they want them to be. Contact our office today to schedule a consultation.
Resource:
leg.state.fl.us/statutes/index.cfm?App_mode=Display_Statute&URL=0700-0799/0736/0736PartIContentsIndex.html&StatuteYear=2018&Title=-%3E2018-%3EChapter%20736-%3EPart%20I
leg.state.fl.us/statutes/index.cfm?App_mode=Display_Statute&URL=0700-0799/0733/0733PartIContentsIndex.html&StatuteYear=2018&Title=-%3E2018-%3EChapter%20733-%3EPart%20I
https://www.davidtobacklaw.com/dont-overlook-these-estate-planning-details/