Domicile: Your Legal Home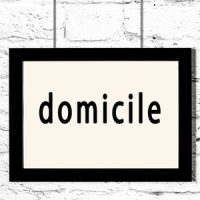 The stereotype about residents of Florida not originally being from here largely holds true for the senior age group.  If you live in a retirement community in Florida, there is a good chance that most of your neighbors grew up somewhere besides Florida and only moved here as adults, even if they were still working when they arrived.  Whether or not you and your neighbors consider Florida your home depends on your definition of home.  Most of your relatives might live in other parts of the United States, and your family burial plot might be someplace that you have not visited since your youth.  There might be more than one place you consider home, but from the perspective of probate, only one place can be your legal home.  Actually, the term the courts use for your legal home is "domicile," and there have been plenty of disputes during probate over which state is the deceased person's legal domicile.  Ensuring that there is no doubt that Florida is your legal domicile is an important part of estate planning, and a Hillsborough County estate planning lawyer can help you accomplish this.
Ways to Establish Legal Domicile in Florida
Even if you only spend part of the year in Florida, and even if you own houses or condominiums in more than one state, only one state is your legal domicile.  Your domicile is the only place where the probate courts have jurisdiction to administer your will and settle your estate.  You can file a Declaration of Domicile form with the court just to cover all your bases, but many people whose estates go through the Florida probate courts have not done this.  Here are some other things you can do to strengthen the claim that Florida is your legal domicile:
Register to vote in Florida
Open an account at a Florida bank
If you currently file taxes in another state, file a final tax return in that state, and then file in Florida next year
If you already file taxes in Florida, and you own a house here, apply for the Florida Homestead Exemption
Have an estate planning lawyer review your will and make any changes necessary for the will to comply with Florida laws about wills (Florida law has special requirements about designating a personal representative and about having an heir inherit your primary residence)
Get a Florida driver's license
Register your car in Florida (when you do this, you will get a Florida license plate)
One of the goals of estate planning is to spare your surviving relatives' stress.  Few things are more stressful than having siblings or stepchildren in a different state fighting about where everyone needs to travel in order to settle your estate.  You can avoid this problem by clearly establishing Florida as your legal domicile.
Let Us Help You Today
An experienced Tampa estate planning lawyer can help you establish legal domicile in Florida, so that you can concentrate on enjoying your retirement here.  Contact David Toback for help with your case.
https://www.davidtobacklaw.com/reopening-an-estate-for-probate-after-it-has-already-settled/