Estate Planning After a New Baby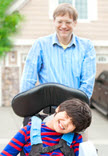 Congratulations! You've just welcomed a little bundle of joy into your life and what was a family of two is now a family of three. You've baby proofed the house, found the perfect name, and bought all of the necessities to take care of your little one. But have you created your estate plan?
Planning your estate isn't just something that the rich and famous need to do. It is something that everyone should do, especially parents. After all, it isn't just about you anymore. It is about your child and the life you will be providing them. That's why it is important to think about what would happen to your child is something were to happen to you. Who would have guardianship of them? What would their inheritance be and who will handle it for them?
If you haven't thought about these things, and it may seem overwhelming, now is the time to sit down and have a consultation with an experienced estate planning attorney. Below is a checklist of things you want to take into consideration when preparing your estate.
Name the personal representative of the estate. This person will take care of any financial obligations you have, represent your estate in disputes among beneficiaries, and carry out the terms of your will.
Name a guardian for your child. If your children are under the age of 18, this person will be responsible for caring for them. You can also name a health care surrogate for your child, to take him or her to the hospital or doctor's office if you are not available.
Create a Power of Attorney. If you become incapacitated, this person will take care of your financial and legal matters for you.
Name the beneficiaries for your assets. You need to name the people that will be the beneficiaries for your assets such as life insurance, IRA's, and 401k's.
Set up a revocable trust. This kind of trust, if set up properly, is created during your life, and upon your death will catch any assets for your beneficiaries that are still underage. This protects the assets against immature judgments and keeps your family out of the courthouse. It will eliminate the need to create expensive and time-consuming guardianships by the court.
Create funeral arrangements. This is never something that anyone wants to think about, but if you fail to outline your own funeral arrangements, the state of Florida will give this responsibility to your legal next of kin.
Contact an Experienced Estate Planning Attorney Today
Creating an estate plan is complex and you should never try to do it on your own. That's where an experienced estate planning attorney comes in. Tampa estate planning attorney David Toback has knowledge of trust, probate, and estate planning laws in Florida and will ensure that your final wishes are handled the way you would want them to be. Contact our office today to schedule a consultation.
Resource:
leg.state.fl.us/statutes/index.cfm?App_mode=Display_Statute&URL=0700-0799/0731/0731ContentsIndex.html&StatuteYear=2018&Title=%2D%3E2018%2D%3EChapter%20731