Memory Care And Your Estate Plan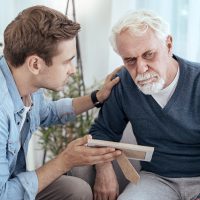 Perhaps you have a detailed plan about what you will do with your house in preparation for aging in place.  Now that your children are still living at home and you are working full time, you are concentrating on paying off the mortgage.  Once you have paid off the mortgage, you will concentrate on living below your means, putting the money into savings that you used to spend on mortgage payments; you are making a wise choice financially by having your children continue to live with you as they attend college or enter the workforce, but if your kids are ready to move out, renting out the rooms that they have vacated is also a good source of income.  In the distant future, after retirement, you might renovate your bathrooms so that there are handrails on the walls and benches in the showers.  You might move to a bedroom downstairs and even install a chair lift on the stairs.  All of these renovations can make your home safer, but these aging in place modifications only account for changes in your physical health.  What will you do to stay safe if your only significant health concern is impaired memory?  Imagining a future where you cannot rely on your short-term memory is not pleasant, but it is an important part of estate planning.  To find out more about memory care and other accommodations for seniors with impaired memory, contact a Tampa estate planning attorney.
What Is Memory Care?
Memory care refers to a set of services that specially designed facilities provide for seniors affected by dementia.  Additionally, some assisted living facilities have designated memory care areas, even if the entire facility is not equipped for memory care.  The residents of memory care facilities are usually physically healthy enough that, if not for their dementia, they would be able to live independently; for example, they do not need help bathing or dressing.  The physical design and activities of memory care facilities serve the following goals:
Preventing residents from wandering away
Giving residents as much autonomy as possible while ensuring that they are safe
Providing predictable routine and familiar surroundings so that residents do not become disoriented or agitated
In memory care facilities, residents have their own apartments, as they do in assisted living facilities.  Staff members check on them several times a day but only provide the help that the resident requests.  Unlike assisted living facilities, memory care facilities have alarms on the doors that will ring if a resident tries to leave without a staff member using their access card to open it.  The outdoor recreational spaces are also enclosed to prevent wandering.  Like assisted living facilities, memory care facilities accept payment out of pocket or through long-term care insurance.
Contact David Toback With Questions About Memory Care
A Central Florida estate planning lawyer can help you plan for housing options such as aging in place, assisted living, and memory care.  Contact David Toback in Tampa, Florida to set up a consultation.
Source:
aarp.org/caregiving/basics/info-2019/memory-care-alzheimers-dementia.html