Start Succession Planning Now for Your Family Business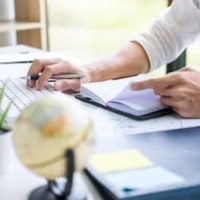 If you've put your heart and soul into a family-operated business, you want to know that your business will continue to thrive after you're gone. A well-operated family business should be able to provide for your loved ones for years after you have decided to retire from the business if you properly plan for succession to the next generation.
A succession plan is a sort of will for your business. Although none of us like to think about a time when we're no longer around, it is necessary to do so to provide for our loved ones, and to protect the business that you've put so much time and energy into.
Keys to a Successful Succession Plan 
Even though we know that succession planning isn't easy, we also know that it is extremely important for the longevity of our business. When preparing a succession plan, there are a few things you need to keep in mind to make yours successful.
Plan Early – The sooner you begin the process the better. Planning your succession long before you need to will give you much greater flexibility. You may be able to transfer the ownership of the business to your children to avoid unnecessary estate tax, or you may decide to transition your business to new leaders slowly.
Train Key People – Planning in advance enables you to ensure that your succession plan is more than just a list of names and roles. Some people prefer to call this succession development rather than succession planning. This lets you be certain that key people are able to grow into their new roles, rather than being thrown into them. You want your new manager, employees, etc. to be well-trained, and excited about their new roles.
Focus on Three Roles – There are three roles that need to be addressed before you step down from your business. Those are the ownership, leadership, and management. For a family-operated business, the ownership is almost always handed down to one of the owner's children or split between several children. Leadership, however, may go to a trusted employee or a partner, depending on what the capabilities and wishes of the family are. Keep in mind that it is important to be honest and solicit honest feedback about what everyone's capabilities and wishes may be. Often times, management changes with the leadership as many of the most experienced managers become promoted to leaders. Then you must decide who will replace the previous managers. Many times, the current managers will be able to identify who their best replacements would be from within the company.
Involve Your Attorney and Accountant – While much of the planning must come from you, such as your wishes and decisions for the future of your business, there are plenty of aspects that require outside help too. When it comes to the actual transfer of ownership, legal issues, and tax planning, it is imperative to get the advice of a trusted business planning attorney and accountant. They will likely save you much more money in the long run than what they cost you up front.
Don't Put It Off – Contact an Attorney Today 
Are you ready to start your succession plan? Tampa attorney David Toback has decades of experience helping businesses prepare for succession. He can advise you of your legal options and give you peace of mind that your business will thrive long after you are gone. Contact him today to schedule a consultation.
Resource:
leg.state.fl.us/statutes/index.cfm?App_mode=Display_Statute&URL=0600-0699/0607/0607.html